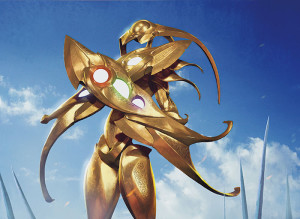 Oh boy, there is a lot of excitement on this eh?  We are still waiting for the official spoilers to come out, and honestly I've been asked about this product since last Fall.  In the last week I've gotten numbers from distributors and Wizards, so I have a reasonable idea of what to expect and I'm still trying to get more.  So without further ado, here are the things I think you want to know:
Preorders
A set amount of product is being reserved so you can reserve it!  We will be taking preorders on MM15 starting 5/9.  It is my belief that there will be more spoilers by this point and there will be a more accurate market value for the product.  How are we going to be pricing?  Well, if you want a box you will pay no more than $240 (effectively pack price).  If the market value for this item is lower than expected, then we will adjust downwards.  If the market value for this item is higher than expected, then we will NOT adjust.  That's right, we are not going over the effective MSRP for Modern Masters for your first box.  Any box beyond the first will be ballpark market (I've seen as high as 300), likely lower than the industry leader SCG, which I noted they have already sold out of some items.
Modern Masters League
We are setting aside some product for a month long league.  It will meet Monday nights in June.  Entry is $60, and you can add packs to your pool over the course of the league at $10! There will be a League finale June 29th, with payouts in Modern Masters!  Look for further details on the league.  I strongly encourage pre-enrolling for it.
http://mkt.com/magelings-games/modern-masters-league
Drafts
We will be drafting in pods of 8 over the opening weekend.  Cost is $50, and payouts are as follows (in more Modern Masters packs!)
1st 8 packs
2nd 4 packs
3rd/4th 2 packs
5th/8th 1 pack
We will also be withholding a few boxes for drafts over the summer.
So with our allotment we are holding items in this order:
Preorders
MM League
Summer drafts
Opening weekend drafts
I feel that this is supports our collectors and players.  Those that are heading for the nutter-butter event that is Vegas will still have access when they return, and those that aren't can enjoy an awesome weekend in the shop.  And so we are about to kick off an exciting summer of Magic and gaming!
~Nat and the Magelings crew