Everyone here at Magelings Games is excited for Theros, the upcoming Magic: the Gathering set, in their own ways. If you haven't already, be sure to read Nat's post on how we're structuring our prerelease to benefit players and ensure you get the most bang for your buck. I'm here to tell you about how we'll be running the Theros League on Wednesday Nights. League is designed to be a more laid back and more fun environment that helps balance the playing field for all players. 
League will begin on Wednesday, October 2nd at 7pm. Players will begin by picking an intro pack of their choice that will serve as their deck throughout the course of the 19 week league. That's right players: Theros League is going to run the ENTIRE 3 month period until Born of the Gods launches!
Climb the Mountain Towards Your Destiny!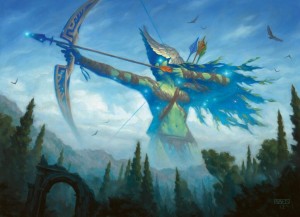 The most visible difference will be the giant, painted cardboard mountain placed on west wall. I call this the Mountain of the Gods. This mountain will serve as your path to victory during league and will give you an idea what the League schedule will look like each week. Players will also be able to use a hero card (spoilers!)from the Theros Prerelease packs once they've completed a specific quest on the mountain.
Leveling Up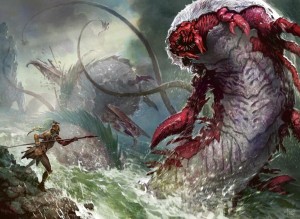 Theros is a flavorful set and League is going to follow that trend closely. Players will earn experience points (XP) throughout their matches and level up, similar to playing in an RPG. This matters for 2 important reasons. During League you'll be able to upgrade your decks by purchasing more packs if you so choose. However, you can only add a pack when you level up. The second reason is much more important: the person with the most levels will win the League at the end of the season! I'll keep track of all XP progression at the front deck.
Challenge Weeks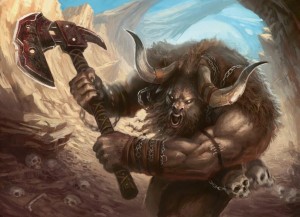 These will be marked on the Mountain of the Gods so players have some idea what they are facing. Every 5th week will be a limited draft event, either a special Theros Repack ($3) or a Rare Redraft ($8). If you haven't drafted much, don't worry because we'll help teach you the ins-&-outs. Some weeks players may have to face the whimsical interventions of the Gods, who like to meddle in the affairs of mortals. Other weeks players will have to team up to take on special quest decks to take down mythological beasts. My favorite of these I'm calling The Labyrinth. 🙂 Beware: the challenges may not be held to the same restrictions you as players are held to.
I hope you guys are as excited as I am to try this revamped League structure. If you have any questions or concerns. Feel free to leave a comment or see me at the shop. I'd love to see people sign up on the facebook events page for League but it isn't required. Until the next time, keep on gaming! – Josh